Your Guide to Honeymoons in Tahiti
Those looking for a honeymoon spot that is secluded, sensual and tropical will certainly enjoy a Tahiti honeymoon for a destination. Truly a South Pacific paradise, this collection of 110 islands has been in favor with Paul Gauguin and Marlon Brando and more recently the Kardashians. These islands are the legendary ancestral home of the native Hawaiians and the similarities that the Polynesian cousins share are evident in manner, cultural practices, and even time zone. But there are differences. Closer to the equator, Tahiti is known for high humidity and warm temperatures all year on islands that are low-lying and densely tropical. However just a mere two additional hours from the west coast, Tahiti is unspoiled with a French flair that is seductive and sensual for honeymooners.
Expect activities that revolve around the resort and ocean with a bit of hiking and island sightseeing thrown in. The Tahiti mega-resorts are compounds that provide for guests every need for those who enjoy being catered to. But, those who are more interested in nightlife and museums and other experiences are better off choosing a hotel on Tahiti where one can find shopping, nightlife and more.
A Tahiti honeymoon represents the splendid seclusion that many honeymooners wish for. It is perhaps one of the most isolated honeymoon destinations that a couple can choose. Getting there can be a journey, and it can be an expensive trip. However, those who have traveled to Tahiti always want to go back.
The process of planning a visit to Tahiti will bring forth a list of hotels that range from the simple to the luxurious.
The simple and moderately priced can be found in Papeete just minutes from Faaa Airport on Tahiti Nui or the main island. Hotel Tahiti Nui is within walking distance to everything in Papeete while Hotel Tiare Tahiti is closer to the airport.
Those who come on that once in a lifetime honeymoon will be staying at some of the most romantic resorts in the world.
Hotel Tahiti
Nui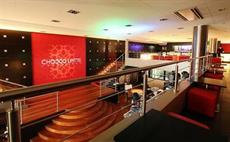 Papetee, Tahiti – French Polynesia
check for current rates
"Very Modern", "Great Location", "Great Value Overall"
Located a 45-minute flight from Faaa Airport is the island of Bora Bora. Legendary in it's beauty and or ferry ride away, the neighboring islands of Bora Bora where one can find opulent luxury in resorts with names like the St Regis Resort Bora Bora, Hilton Bora Bora Nui, The Four Seasons Resort Bora Bora and others where the over water hales or guest cottages are the expectation and the service is decadently French.
Le Meridien Tahiti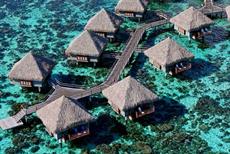 Tamanu Punaauia Region Tahiti French Polynesia
check for current rates
"Great Beach", "Nice Balcony", "Good for Shopping"
Sofitel Tahiti Maeva Beach Resort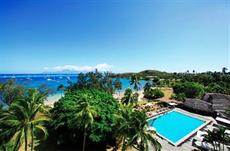 Faaa, Tahiti French Polynesia
check for current rates
"Great Pool", "Nice Beach", "Excellent Dining"