15 Feb

New York Honeymoon
Planning a Romantic New York Honeymoon
While some couples like to honeymoon at beachfront resorts featuring white sands and turquoise waters, others find a romantic retreat in more sophisticated surroundings. So, while you may have to dispense with the scenic Gulf views or lush and green tropical vegetation, you'll nonetheless find a romantic escape when you choose a New York honeymoon. The city that never sleeps offers a wide variety of things to do and places to see for both honeymooners and couples seeking an exciting romantic getaway. There are world class museums to visit, Broadway plays to experience, and many cultural landmarks to visit.
Enjoy a City View at Night from the Empire State Building
One of the best ways of kicking off your honeymoon in New York is a night time visit to the Empire State Building. Although the Empire State Building, on first impression, does not ignite thoughts of romance, you'll soon discover that the silver spire is just the place to go after an evening of dining and dancing. Famous films like "An Affair to Remember" and "Sleepless in Seattle" capture the essence romantic feelings as you and your loved one stand atop one of the busiest and most famous cities in the world. A starry night is pure magic when you take in a city view from the glass-enclosed observation deck on the Deco-designed dazzler's top level (or 102nd floor). You can also enjoy a romantic city view from the lower tiered deck located on the 86th floor.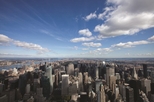 New York Supersaver: Empire State Building, Metropolitan Museum of Art and Statue of Liberty Cruise