25 Mar

Greece Honeymoon
Greece Honeymoon Travel Guide
When you are in love, the sun shines brighter, the days are filled with smiles and serene thoughts and you feel like escaping with your loved one to a remote paradise where just the two of you can indulge in unknown pleasures and explore new and exciting places which makes a Greece honeymoon a great place for those seeking an enchanting getaway steeped in history.
This is Greece for you, a land of beauty and mystery that will spice up your romantic holiday with all the right ingredients, leaving you sweet lifetime memories.
Greece is one country that can offer all this and more. Especially to those in love.  Discovering this land is like listening to a beautiful love song, contemplating the most delightful impressionistic painting in shades of white and blue, or tasting the most aphrodisiac of foods. It can be the perfect destination for honeymooners or the most romantic getaway for couples in love, offering sea, sun, good food and amazing views that will make your heart melt even more (if that were possible!). From the historic capital of Athens, to the island of Santorini, if you feel the urge to discover a realm of myths and legends, enigmatic islands and happy people, here are the best tips for you.
Greece Honeymoon Packages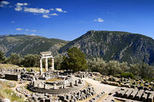 7-Day Greece Grand Tour: Olympia, Delphi, Meteora, Thessaloniki, Lefkadia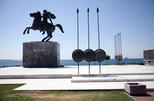 5-Day Northern Greece Tour: Delphi, Meteora, Thessaloniki, Pella, Thermophylae